A charity stalwart from Ipswich who devoted nearly thirty years to supporting local people affected by brain injury while juggling a hectic medical career has been named as a national awards finalist.
Humphry Adair, 70 and from Ipswich, in Suffolk, is one of just three people from across the UK to be shortlisted by Headway – the brain injury association for the national title of Volunteer of the Year.
Humphry, who worked as a consultant surgeon at Ipswich Hospital before semi-retiring to teach anatomy, first became involved with local brain injury charity Headway Suffolk at the time of the group's inception in 1982.
He discovered the charity, which supports local people affected by brain injury and their families, when he was involved with referring patients to the group for rehabilitation support as part of his role as a consultant surgeon.
Having witnessed first-hand the value and necessity for developing brain injury services in the region, Humphry soon became a volunteer and staunch supporter of Headway Suffolk, providing information and advice to individuals in need of a listening ear after brain injury.
When Humphry semi-retired from the medical profession in 2006, he continued to support Headway and became a board member within the local group.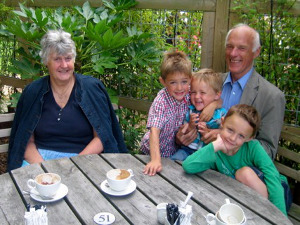 Today, Humphry is still an active participant in the charity's work and helps to run woodwork sessions every Friday at the group's hub in Ipswich.
"I am delighted to be named a national finalist," said Humphry. "I find working with our service users at Headway Suffolk's woodwork sessions particularly rewarding. Such activities serve as a key rehabilitation tool for individuals relearning co-ordination, movement and other life skills they may have lost after sustaining a brain injury. It has also increased my own understanding of their problems and daily challenges.
"In the early days of Headway Suffolk there was very little training about how to manage and respond to such injuries. We were very fortunate to have a strong staff team at Headway lead by a deeply committed chairman, Allistair Renton, and an excellent Chief Executive.
"Headway Suffolk has progressed enormously since its inception and, today, support for the charity has meant we are well-equipped to deliver a professional support service and reach out to an increasing number of local people living with the devastating effects of brain injury. It has been a privilege to witness and contribute to these developments and I hope to be able to continue my involvement."
Humphry was nominated for the award by Helen Fairweather, Chief Executive of Headway Suffolk.
"Humphry has shown an unwavering devotion to Headway Suffolk ever since he began supporting the charity nearly 30 years ago," said Helen.
"Not only does Humphry bring an experienced medical eye to the board meetings, but he is an incredibly caring and friendly person who somehow finds time in his busy work schedule to be a listening ear to members of Headway Suffolk. In addition, Humphry is not afraid to roll up his sleeves and get his hands dirty for the cause – whether it be getting stuck into helping clients with woodwork or clearing up after sessions. He truly deserves a pat on the back."
Each year, Headway Annual Awards celebrates the exceptional efforts of survivors of brain injury and their carers. Humphry will discover if he is to be named Volunteer of the Year at a glittering ceremony at The Dorchester Hotel, in London, on Friday 11 December. Awards for Achiever and Carer of the Year will also be presented, alongside the Stephen McAleese Outstanding Contribution to Headway Award.